< Return
Macro and Currency Outlook for Q1 2021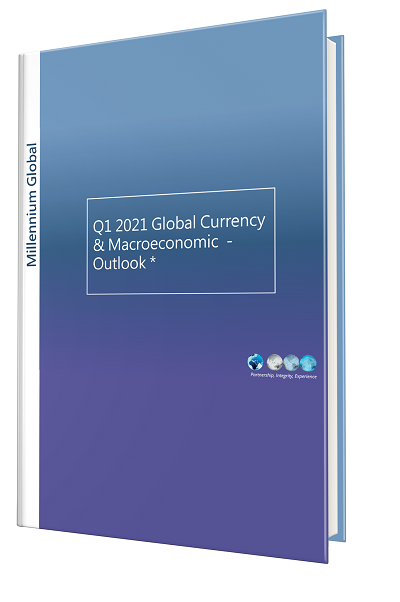 In Millennium Global's latest currency outlook report for Q1 we see a world still struggling to get to grip with COVID 19, continued fiscal support and light at the end of the tunnel in the form of mass vaccination.
We look for a soft patch in growth in Q1 in major economies but continued monetary and fiscal support and prospects of widespread vaccination by H2 2021 should help investors ''look through'' and keep the USD on a weak footing, in view of its expensive valuation against developed markets, widening twin deficits and low real yields.
Central banks' focus on labour market slack points to Norges Bank and Bank of Canada leading the way in the long journey to policy normalisation, respectively on interest rates and balance sheet policy, which should benefit NOK and CAD.
The extension of ECB QE policy (PEPP or Pandemic programme) until the health crisis ends focuses on keeping financial conditions favourable. This combined with a positive fiscal impulse in 2021 keeps alive expectation of growth recovery in the Euro area and with it, foreign capital flows into the equity market, in turn boosting the EUR, already supported by a resilient current account surplus.
EM currencies have yet to discount global economic recovery and show deep undervaluation, including BRL, TRY, PLN, INR based on our metrics (Fundamental Equilibrium Exchange Rate and PPP). While CNY is likely to continue to provide an anchor to Asia, deflation in China and rising private sector leverage call for capping CNY gains.
UK GDP is set to contract in Q1 hit by the impacts of Brexit and renewed COVID 19 restrictions. Despite a free trade agreement for goods with the EU, the economy will face non-tariff barriers, resulting into a drag on the growth over the near term. In addition, as the UK financial sector has lost its passport to the EU, downside risks for the medium-term outlook for growth and capital flows have increased.
The UK will likely to resort to fiscal support as a first line of policy reaction. Unlike the EU, it does not have a recovery fund. Meanwhile, the BoE could front load its QE envelope for 2021 in the first quarter. To boost growth, it also seems likely that the government will test the mechanisms enforcing state level playing field fuelling uncertainty and the risk of retaliation from the EU.
GBP benefited from only brief short-term relief from the FTA deal, and long term we see a case for a weak GBP. UK capital flows have not yet adjusted to Brexit and we expect a reappraisal of the long-term outlook possibly resulting in GBP vs. EUR overshooting versus PPP.
The JPY has potential for gains thanks to its cheap valuation against USD as well as a rising trade surplus, resilient current account surplus and reduced capital outflows from residents. Fiscal and monetary policy cooperation is limited to supporting growth, unable to raise expected or actual inflation. In turn, JPY is likely to be supported vs. USD by real interest rate differential vs. US.