< Return
MillTechFX CFO FX Report 2022 - The intensifying FX challenges for corporates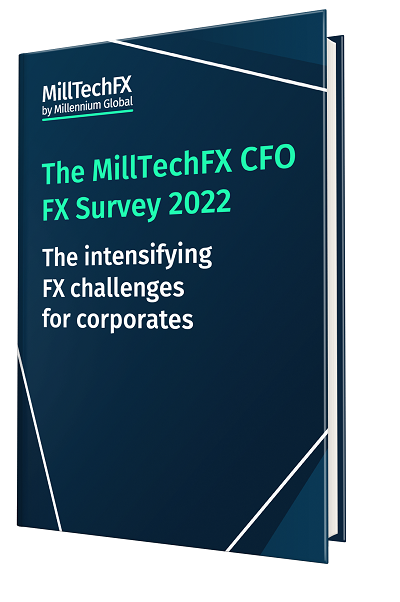 The FX challenges for CFOs are intensifying with the rising threat of currency movements negatively impacting their bottom lines. As a result, FX has become a strategic priority for senior-finance decision makers at corporates across the globe. Two of their main struggles have been the lack of transparency and opaque pricing, with banks overcharging for their FX services.
With this in mind, Censuswide conducted a survey on MillTechFX's behalf of 250 senior finance decisionmakers at corporates to review where they are on their FX journey and where they would like to get to. The 'MillTechFX CFO FX Survey 2022: The intensifying FX challenges for corporates' explores how much resource they dedicate to FX, challenges they face, solutions they are exploring and if their approach to FX risk management has changed in the face of heightened volatility.
This data refers to a survey conducted by Censuswide on MillTechFX's behalf between June 2022 – July 2022, based on a survey of 251 CFO's, treasurers and senior finance decision-makers in mid-sized corporates (described as those who have a market cap of £50mil up to £1 billion).